An architect needs to investigate elements that transcend traditional boundaries and create spaces stimulating the senses. A traditional design can constrict the available space, making space planning an efficient step to consider. Most design colleges in Chennai have started to educate modern architecture hacks, emphasizing the interior space, which offers plenty of areas for decorating. Know more about the key elements of space planning here and the simple tips to maximize the area through architecture.
What Is Space Planning?
Space planning is applied in architecture to create an open concept. It is a multi-step process that is critical to the success of interior designers and architects. Space planning is important in ensuring that floor space is used efficiently and not wasted. It can result in a detailed floor plan for the entire building. Furthermore, it can assist architects in solving puzzles and coming up with the best solutions.
To be more precise, space planning is a specialized field that requires gathering information about the building and its spaces. It is important in every interior design and architectural design. The first step will be to create a floor plan for at least one building floor, and it is critical to determine which furniture pieces will fit when space planning.
Basic Facts In Space Planning
There is a lot of wasted space in any building. Designers can remove any unnecessary space by considering the functionality of each area of the building. They do this by deciding on what the space requires, utilizing space when necessary, and leaving the rest untouched. Open floor plans are popular for maximizing interior space in residential properties, as they gain better access and adaptability. However, closed-off space is also needed for individual meetings and upper-level management offices.
Clutter is the nemesis of any amount of space, so think about how you can be more strategic with your storage by installing built-in storage. Listed below are a few small-space design ideas that will help you make the most of your limited living space.
Closed ceilings can make a space feel dingy and dark, while an open ceiling reflects light into the space.
Use multiple light layers to open up a space, such as wide plank wood floors, light paint colors, mirrors, and other elements.
Consider removing or replacing stair railings to make your space feel more open.
To create a sense of spaciousness, use monochromatic palettes to distinguish between spaces.
Make the space appear larger and more open by creating sight lines that allow views to be shared between rooms.
To maximize the amount of space available in your home, try to plan and insert a desk into the second-floor hallway eave.
Another simple hack is to install mirrors above doors and cabinets. This will trick the eye into believing that there is more space.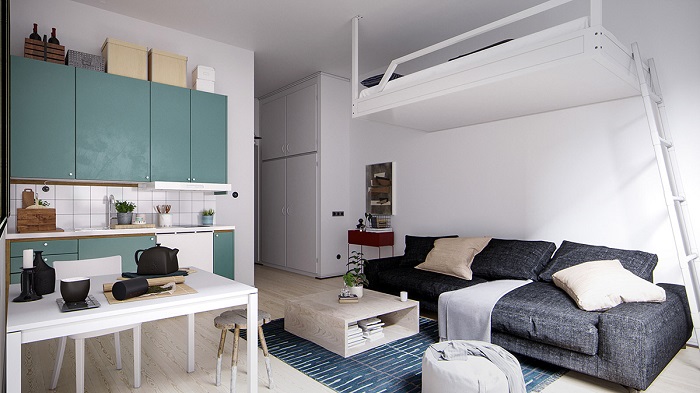 Ways To Increase Space With Architecture
Architects will transform most of the available space by combining innovation and experience to produce ground-breaking projects. However, they must define the function of structures and spaces' function and consider the maximum number of people that the space can accommodate. A design course in Chennai and other big cities of India educates its students to analyze how people move through the available space while planning space. As recommended by top professionals, let us see the various simple tips to maximize space effectively.
To maximize your home's square footage, make sure you use all of the space available.
If you're renovating, consider every space as functional and beautiful as possible.
Paint the walls with white color and use a variety of furniture and accessories.
Use the roof space for entertainment purposes, and establish a rooftop garden, pool, dining area, or other amenities.
Consider vignettes to divide the space into sections, and then use each section.
Small furnishings can make a space appear smaller, but larger pieces conceal unsightly elements.
A fireplace can provide warmth to a space, and greenery can provide a natural variation creating an illusion of a bigger space.
Ceilings can have complex shapes, and high ceilings add space, interest, and appeal to a room, making it easier to keep cool.
Hallways can be transformed into a gallery space by installing bookcases and a window seat.
The Takeaway
The primary step in space planning is to consider who will be using the space and how many people will use it. Furthermore, determining the accessibility and durability which the users require is yet another necessary procedure. Most importantly, architects must strive to create more than just four walls and ceiling spaces by bringing out their creativity.